And so we touched the African skies @ 19341 feet AMSL, on February 28th, 2017! Sunila Patil; Manu Kashyap; Mahendra Vakharia & I @ UHURU Peak, Kilimanjaro!

A dream that I had treasured since October 2010, when I had flown over the mighty Kilimanjaro for the very first time. The excitement of scaling up a volcano albeit a dormant one was all consuming.
A plan that was hatched during a meeting over a cup of coffee at Sunila's office in early 2016.

Manu & Mahendra jumped at the idea almost instantly and thus began our journey.
At the Mumbai Airport
All of us amateurs and not essentially into any major fitness regimen.
What we shared was one common dream, a dream to Summit the tallest mountain on the African continent and the highest freestanding mountain in the world – Kilimanjaro!
Manoeuvring through busy work schedules & hectic work related travel; we started preparing in our own individual capacities.
A trek to Kilimanjaro, does not require any mountaineering techniques or equipment, what is essential though is a proper rhythm to your breathing and endurance.
Nothing can prepare you for how the body is going to react at higher altitudes, that is something that we need to wait and watch.
We decided to put ourselves through the ultimate challenge by selecting the Machame Route, which is considered to be one of the most scenic & one of the most difficult one too!
An introduction to Genes Nolasco Shirima of Lava Rock, by my good friend & colleague – John Munoru, was a blessing.
Genes, an established & expert Mountain Guide, has been scaling the Kilimanjaro since the age of 16, he is now 42. He has been grilled through all the aspects of climbing this mountain, from being a porter; an assistant guide; a head guide & now the owner of his own company Lava Rock, with the highest standards of Safety & Success he is well versed with all that can happen during this adventure.
His fabulous crew of Camp Master; Chef; Toilet Master & the gang of porters, all competently trained not only in their own departments, but capable of multi-tasking and stepping-in for any role as the time would demand.
The meal Menus are so well planned that the body functions as well as it does under normal circumstances. I have to mention here the etiquette that they deliver at altitudes high above the sea level – while serving the meal its always "Ladies first"!

Their attention to detail & meticulous planning immensely increase the chances of Summit success.  

But the most important quality of the LAVA ROCK team led by Genes Shirima, is that their heart beats in the right place, all that they do is with so much warmth & care, with oodles of love that even as I write these words my eyes fill up with tears of gratitude, because without them our dream would have remained just a dream! 

The Machame route is indeed very scenic. Each day takes us through different zones – starting with the Rainforest; followed by the Moorland / Heather Zone; Semi Desert; Alpine Desert; Arctic Zone.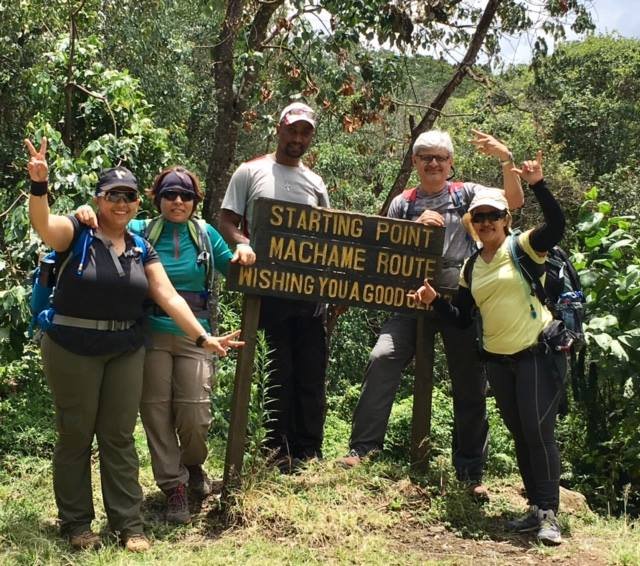 Each zone with its own share of mind-blowing beauty & at times mind-numbing difficulty!

You can't help it if Robert Frost's "Stopping by Woods on a snowy evening" starts playing on your lips, as you take in the beauty of the surroundings.
The Rainforest – Kilimanjaro National Park
Each day begins & ends with a proper medical check-up by the head guide –
The Machame Route is indeed very scenic, it's very difficult to decide which part is the most beautiful, but if I were to ponder, then kissing the Barranco Wall would remain etched in my memory forever!
Undoubtedly the day of the summit is the toughest of all, as you try to reach the altitude of 19341 feet from the Barafu Camp, which is at 15088 feet. 
Your body somehow manages to get you up to Stella Point, which is at 18885 feet, but the gradual climb from Stella Point at 18885 feet to Uhuru Peak at 19341 feet is a complete mind-game.
Stella Point 18885 feet
The body is freezing; the nose is running; the head is reeling yet the eyes "your own windows to your souls" are yearning as you catch sight of the Uhuru peak. From here on its your mental strength & ability & loads of divine intervention that actually tug you to "UHURU" meaning "FREEDOM" 
The 3-hour journey down the peak to Barafu camp is only a blur as Mind & Body are totally exhausted by then.
The euphoric state of mind the following morning is hardly surprising as the truth of the feat accomplished starts slowly sinking in while the frozen mind & body begin to thaw under the brilliance of the Sun & the warmth of the people around! 
The rest of the walk downhill over the next 2 days are filled with light-hearted banter and "let your hair-down spirit" all that can be blamed on the effects of "High Altitude" as we cherish this new "High" in our lives!

Down at Moshi, bidding Goodbye to the Lava Rock Team was the most vulnerable of all moments, with promises to stay in touch, the heaviness of our hearts melting in warm embraces!
For us the excitement continued as we were ever so warmly received by the wonderful team at the Arusha Coffee Lodge, thanks to the generous hosting by James Haigh.
At the Arusha Coffee Lodge, the strings of warm water that flowed through the abundant showers on our tired & exhausted bodies were more precious than any
Diamonds in the world even the Tanzanites The celebrations that followed during dinner made us ecstatic!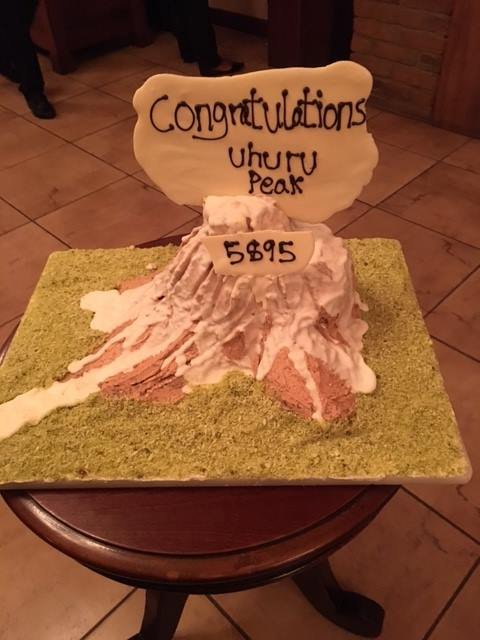 The Indian Lunch on the following day hosted by Sense of Africa with Sangeeta Solanki RS Sangi thanks to the generosity of Martin Cook (now late MD of Sense of Africa), satiated our palate that had by now started to crave for something familiar

As I always say nothing can be achieved in isolation, I would like to thank my parents for passing on some solid genetic abilities; my mom for nurturing me with excellent nutrition all my life.
My husband, my Rock – Prasad Natu, for making me believe that I'm capable of much more than I can imagine and for always holding the fort at home while I'm away. 
My daughter Aariya for being so proud of me always! 
You both are the ultimate strength & reason for my existence!

The incorrigible Ritu Chawla, my friend & my inspiration!
My supremely caring & loving friend Mrudula Bhave!
My young; super fit & encouraging Zumba instructor – Khushboo Panjabi

All my partners across the world who wished us well & prayed for our safety – Dominic Grammaticas; Justin Grammaticas; Shadrack Mutisya; Elizabeth; Suzanne; Merle; Ranalta Romaine Mathew; Graeme; James Robb; Graham Simmonds

And of course Nina Shanghavi & Jay Shanghavi for introducing me to East Africa, this dream too began back then!

As they say "You will never know what you can do; until you do all you can to find out!"

Thus the bold; strong-willed; fighter – Sunila Patil; the brave; sweet & child-like – Manu Kashyap; the solid; steady & sure footed – Mahendra Vakharia & the practical & a bit comical ME found out that we can scale up to 19341 feet and still maintain our sanity! 

A heart-felt salute to the Indian Army & BSF who guard us & protect us under in-human conditions!
Amen