I have immense respect for the travel fraternity!
We go to mammoth lengths, breadths, heights and depths to explore and experience different parts of our planet.
Only so that we can get back home and curate those unique journeys for our beloved guests!
After all we are in the business of "sharing experiences", creating memories" and "spreading happiness".
It is indeed a "fun" profession, which we take very seriously.

I'd like to break a myth here, the world at large believes that we travel professionals always travel for free!
This is absolutely untrue.

Each one of us invests a lot of time; money and resources in undergoing the "Educational tours" understanding the destination and the product, this is our way of doing RnD. 
When at a new destination, it is so heartening to see the twinkle in the eyes of the Agents as their mind gets busy thinking of which of their esteemed guests would appreciate that destination, the process of falling in love with the destination begins right there as they selflessly observe and absorb the surroundings always through the eyes of their clients!

The non-travel fraternity that follows our posts on various platforms may think that we are having such a great life!

Well, sure we are because this is our passion, but here are some facts that our happy faces gracefully hide behind outlandishly huge sun glasses and humungous winter gear-

Most Educational/ Familiarisation tours happen during the off season at the destination, "off season" simply means it's not essentially the best time to be there. Hence we end up braving the harshest weather – extreme heat touching 40 degrees and above, as well as extreme cold -10 degrees or below. We don't complain!


We can't really have a fixed daily routine, especially with fitness regimes


We frequently have to stay away from our children our families yet manage domestic matters remotely.


We literally live out of suitcases, checking in and out almost every single day, as we have a limited time frame and much to achieve.


Despite all our efforts we constantly have to face comparisons made by our clients with what they see "online".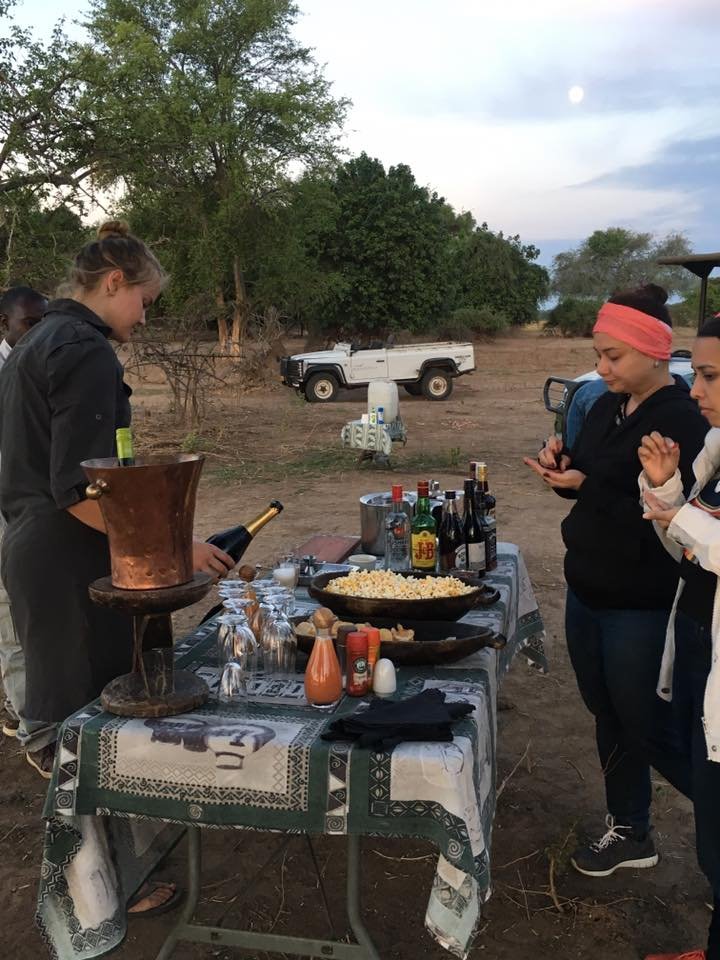 It's tough yet we love every moment of what we do.
The most gratifying moments are those when guests return from their journey and confess that we have given them some of their most cherished memories!
This is what keeps us ticking!

Over the last 12 days I had the honour of traveling with 3 such gems from our fraternity, courageous enough to completely "Disconnect to Reconnect", braving the roars of Lions; the grunting of hippos and the chattering of baboons in unfenced properties at some of the most stunning locations identified by none other than "Wilderness Safaris"
The enthusiastic; energetic and extremely affable – Veneeta Rawat, joined the family business at the tender age of 16, travel is in her DNA. Has succesfully chartered her own course and made a mark in the area of leisure travel! 

The smart; articulate and effortlessly elegant – Bhakti Taunk, armed with a coveted degree from one of India's most prestigious institutions. Now taking forward the legacy of her successful family business with much elan. 

The hard working; creative and completely self made – Kalpesh Bhuttah. Bold enough to explore the unexplored always striving to find a way to satisfy his genre of guests through their taste buds across the globe! 

The interesting and exciting itinerary, carefully planned by Wilderness Safaris took us through some of the most fascinating yet remote parts of the "Continent with a Soul" – Africa

Starting with – 
Refreshing Harare in Zimbabwe, continuing through the mesmerising Mana Pools National Park followed by the buzzing Hwange National Park!

Proceeding to elusive Botswana- Linyanti Concession in Chobe National Park and the magical Okavango Delta!

Concluding in Livingstone, Zambia at the glorious (in season) Victoria Falls!

Sharing here a few glimpses of our happy moments! 
The other happy face in the images is of the young talented travel writer Ananya Bahl, who is inspired enough to write about the destinations for many more seasons to come!

Leaving the rest to be finished by the 3 Gems as they swore to break the internet with their posts 

A huge thank you to Graham Simmonds of Wilderness Safaris for being the most fabulous host ever, we always learn so much about the destinations from you, simply the best! 

After all it's all about people, and Africa simply lets you be!